Meet Team Briggs
Brandon L. Briggs
Financial Advisor
Growth & Development Director
brandon.briggs@nm.com
Office 312-251-3765

A true Midwesterner, I grew up in Grand Rapids, Michigan, attended college in Allendale, Michigan and started my career in Chicago – which today is home. A love of sports, music and academics have held my interest from high school to the present day.
An internship with a well-respected Chicago Public Relations firm brought me to the Windy City and ten years later I found myself in a leadership role as a Vice President. As a young professional, I wanted to be responsible with my finances, pay off student loan debt, save for retirement and have professional help making critical financial decisions. It's why I became a client of Northwestern Mutual.
As I began to see the benefits of financial planning personally, I was attracted to the idea that I could build on my account management skills, grow a business that was my own, and connect on a more personal and impactful level with my clients.
With a degree in Advertising and Public Relations from Grand Valley State University, I continued my education and earned the FINRA Series 6 and 63 investment securities licenses. I am licensed in life, health, accident insurance, variable annutites and long term care.
With a commitment to continued professional development, I was selected to participate and graduated from the Northwestern Mutual-Chicago 1872 Leadership Development program. As a Growth and Development Director, I actively attract and mentor new advisors to our growing firm.
I hit the ground running and was named Rookie of the year at Northwestern Mutual Chicago, I'm grateful that I've been able to continue that momentum and grow my practice in the years since.
I am a Qualified Million Dollar Roundtable (MDRT) member, which recognizes excellence in client development and retention while adhering to a strict code of ethics.
I am incredibly dedicated to my practice, but when I am not working with clients, I appreciate spending time with my large blended family, my fiance, and playing guitar. In my free time, I also enjoy golfing, running marathons, traveling internationally and watching sports.
---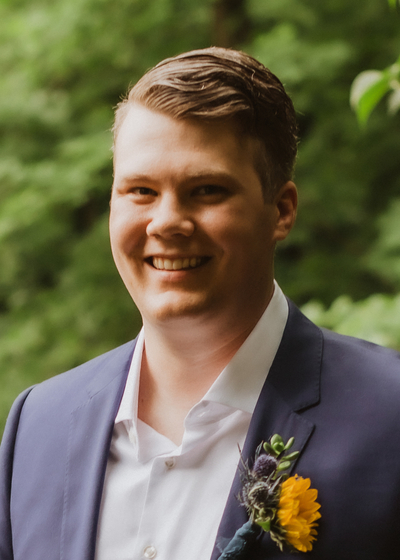 Grayson Quirk
Associate Financial Representative
A native of Canton, Ohio, Grayson found his way to Chicago through Loyola University where he graduated with a degree in English.  He loves to write creatively on the side, and today, his role as an Associate Financial Representative finds him embracing a mission he belives in. 
Building on his strong organizational skills; he supports our vision to make a lasting impact on our clients. Believing communication is the heart of everything we do, his client-centric focus keeps the practice running efficiently and responsively.
Grayson is a big basketball fan and enjoys playing pick-up games. He is married to Megan, and they live in  Chicago's North Center neighborhood with their rescue cat, Queenie. When not working, they like going to movies, trying new restaurants and exploring the city with friends. 
We look forward to serving you!

Connect with Brandon on LinkedIn